Services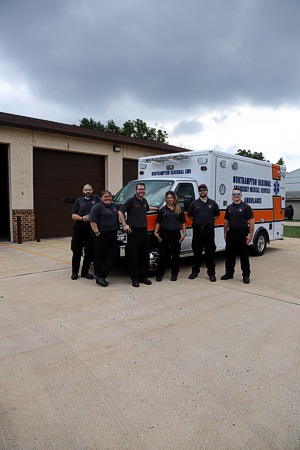 There are two levels of ambulance service offered by Northampton Regional EMS - Advanced Life Support (ALS) and Basic Life Support (BLS).

Advanced Life Support (ALS) Ambulance Services
ALS Ambulance Services serve patients who require immediate medical attention and transportation. They are staffed with a Paramedic and an Emergency Medical Technician (EMT). A few of the skills performed on and ALS Ambulance could be:


Advanced medical therapies
Administering and monitoring approved medications.
Advanced airway techniques
Applying electrodes, monitoring cardiac activity, and interpreting EKG rhythms
12-Lead EKG Interpretation
All EMT - Basic skills
Advanced levels of life-saving care
Basic Life Support (BLS) Ambulance Services
BLS ambulances provide both emergency and non-emergency medical transport. These units are staffed with two Emergency Medical Technicians and can respond on BLS emergency calls as well as a variety of non-emergency transports. A few skills that can be performed by a BLS crew are:


Patient assessment
Basic life support including CPR and AED
Oxygen administration
Basic emergency medical care
Standbys
Our ambulances and staff are available to provide EMS event standbys. Depending on your needs we will work with you to achieve the best service plan for your event. We offer both BLS and ALS standby service.